Marialena & Friends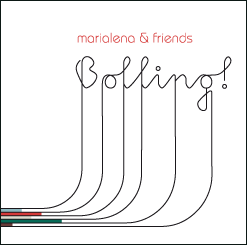 Marialena Fernandes - Piano / Peter Natterer - Sax / Richard Graf - Guitar / Richard Barnert - Doublebass / Ulli Pesendorfer - Drums
The group around the Indian pianist Marialena Fernandes released the CD "Bolling!" in september 2007. After almost two years of working together, "Marialena & Friends" finally recorded their debut CD in march 2007 at Tonstudio Baumann. The recording focusses on the work of the french composer Claude Bolling and includes also a piece written by Richard Graf. Ludwig Flich (Klangbilder, Hifi&Records) writes: two fantastic hit compositions by the "French Gershwin" in a new guise. Is it now classical or jazz? Who cares? Five outstanding Austrian musicians, coming together and complementing one another with great virtuosity in both styles, have taken Claude Bolling's entertaining, colourful crossover music and created a truly stirring, swinging musical adventure.
Listen to: http://www.extraplatte.com/component/page,shop.product_details/flypage,shop.flypage/product_id,1540/option,com_virtuemart/Itemid,27/vmcchk,1/
Download: Presskit English / Presskit German
Homepage: www.marialenafernandes.com
---
Haydn Jazz Trio
Already at the beginning of the new millenium the trio Macheiner/Barnert/Filz played quite successful at international venues. The Haydn Jazz Trio is the logical continuation of this project. Folk, jazz and classic is combined to a colorful mixture, continuously following the paradigm of the great Joseph Haydn - always rich in emotions, flavored with an artful sense of humor!
Bernhard Macheiner - Piano / Richard Barnert - Double bass / Martin Weninger - Percussion
Listen to live recordings from Backstage Bar Wiener Neustadt on 11 Nov 2008:
---
Peter Natterer Quartett
Peter Natterer - Saxes
Gerald Gradwohl - Guitar
Richard Barnert - Double bass
Farid Al-Shami or Reinhard Winkler - Drums
With the PNQ we play european-style modern jazz.
Since its foundation in 2001 the group has been invited to several national and international festivals. The two CD's "In the Flow" and "The Passing" are distributed europewide by the label of Extraplatte.
More Info: www.peternatterer.at
---
Other Projects:
There are some I love to remember - und a lot of musicians I enjoyed to play with - for example: "Bar Nash Directions" with Lukas Ligeti and Michael Fischer, "Uli Drechsler Five" with Martin Siewert and Lukas Kn÷fler, Gerald Gradwohl and Oliver Gattringer, Robert Friedl, Wolfgang Pointner, Burkhard Frauenlob, Emil Spanyi and Franz Trattner, Mark Murphy, Lee Harper, "MHS Big Band Graz", Juci Janoska, "Kid Logic" with Peter Natterer, "On Cue" with Peter Schiefer and Zoltan Galffy, "A Tribute To Charlie Parker" with Herbie King and Geri Schuller, "Timeslip", James Moore, Marjorie Vance, "Tony Perez Quartet", "Rich & Famous" with Marcus Hagler and Oliver Krammer, "Andy Pirringer Element", "Timeless", Lia Andes, Stefan Heckel, Johann Pinter, Vocal College Wien, Ines Reiger, Wolfgang Puschnig, Fritz Ozmec, Martin Reiter, Heimo Trixner, Simone und Philipp Kopmajer, Alex Deutsch, Paul Pluesch, various Big Bands and classical orchestras, many musicals and theater productions